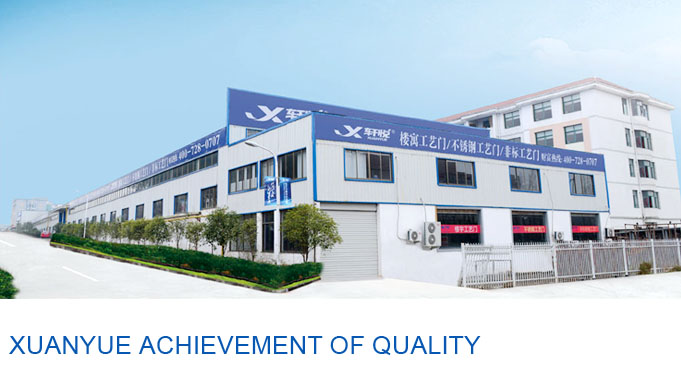 Zhejiang porch yue door industry co., LTD. Is a company specializing in the production of building the main door, stainless steel door, non-standard door glass process research and development, manufacturing, sales and after-sales service as one of the senior enterprise, is located in the baihua science and technology industrial park.
  "Quality", xuan yue people in line with the creation of the "bold innovation, pursuit of perfection" philosophy, has introduced the domestic and foreign modern production lines and advanced testing equipment, product design all the implementation of computerization management, CAD, CAM and has a younger, professional, better educated elite team, to ensure that every link, every detail to achieve to perfect, has grown two millimeters a door, a responsibility, for the majority of consumers to provide first-class products and services is the duty of every porch yue people.
  "Win the future" door porch yue people with the first-class products and services has earned the respect of peers, and won the praise and trust of consumers, but xuan yue people never stop, the company developed on the basis of existing products in 2015 military stereo modelling, alloy material with high-end outdoor paint, integrating security, decoration, collection of high-end products...
  "Xuan yue" is not only used to decorate, she began to become a fashion, a kind of culture, a kind of glory, a status symbo